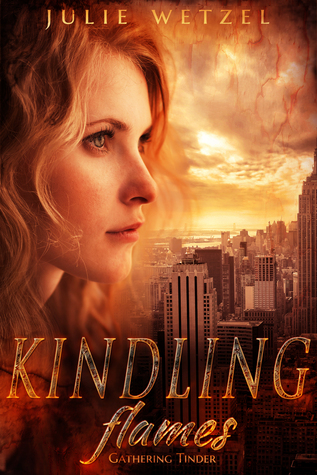 4.5 Chocolate kisses
Book Blurb-
Fresh from college and with no real work experience, Victoria Westernly considers herself lucky to land the coveted position of personal assistant to Darien Ritter, the CEO and owner of a multibillion-dollar company. His busy schedule and eccentric ways are enough to keep her on her toes. But, all is not what it seems when she discovers the handsome man employing her just happens to be the most powerful vampire in the area.
This is the first book in The Ancient Fire Series
This is part one of two. The original book was divided due to length.
________________________________________________________
From the start of the book, I could tell that this was going to be interesting and I read it and could not  put it down and then got the second part right away.  I like my books longer than the two of them individually, generally speaking, but found myself satisfied with the story even though it was less than 300 pages.  The world building was subtle and you see more of it in book two, but it is not – not there.  As the world changed for the female lead character it changed for the reader.  I felt myself taken on a journey and her reactions to this new opening world was amusing and thought provoking.  I took a moment and asked myself, what would I do?
And then I began to wonder about how we got from Dracula to this place where Vampires did what they did in this book.  None were sparkling by the way, but none ripped your throat out and drank you dry.  At least not in book 1.  This is not a negative aspect of the book, but it just got me thinking and I suppose it had to be Anne Rice who started the whole romantic Vampire with Louis in 'Interview with a Vampire'.
If you like slow burn romance then this one fits the bill.  No rush in that department and I wish more writers of series would considered this.  It makes for excellent romantic tension.  And no erotica was even better.  This is one of the books that show that you can have a satisfying romance without jumping into bed every 5 pages.  I like my paranormal romance without erotica and that seems very hard to find these days.
On the whole it was not what I expected and thought to read a bit, put it down, sleep and in a couple of days, read some more.  I couldn't put the book down until I finished.  So there.  That says it all.